Sand Point and the Shumagin Islands
Sand Point Today
With a population of about 1,000, Sand Point is located on the northwestern coast of Popof Island in the Shumagin group, just south of the Alaskan peninsula. Sand Point is one of the largest communities within the Alaska Peninsula region. Sand Point is 575 air miles southwest of Anchorage, and 87 miles west of Cold Bay. The community is blessed with pristine blue water, scenic views of mountains and volcanoes, and industrious and friendly people.
Sand Point affords many amenities to its residents and visitors:
An excellent airport with a 4000 foot paved runway and regularly scheduled airline passenger and cargo service, including direct flights to Anchorage.
A first-class 25-acre boat harbor with four docks, 134 boat slips, wireless internet access, 150-ton lift and new harbormaster building.
Regular marine freight service from Seattle by Coastal, and Samson Barge Lines.
Major fish processing plant which provides fuel and other services, as well as fish processing facilities.
A K-12 public school supports the community with a library, computer lab with free internet services and indoor swimming pool.
A maritime climate with ice-free access to the sea year-round. Temperatures range from -9 to 76 degrees Fahrenheit, annual snowfall averages 52 inches and annual rainfall averages 33 inches.
Sand Point hosts one of the largest commercial fishing fleets in the Aleutian chain.
A new clinic is under construction.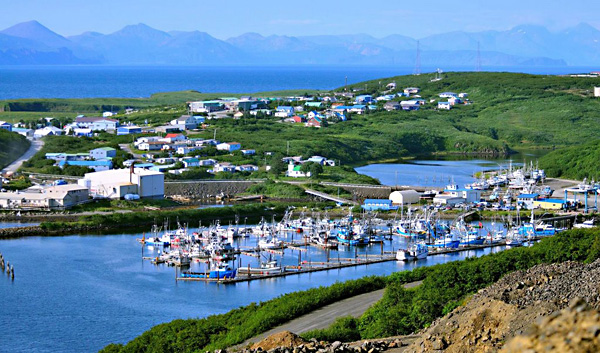 Sand Point's boat harbor is sheltered behind a breakwater at the mouth of Humboldt Slough. In addition to serving local vessels, our harbor provides transient moorage for vessels in the area for the cape fisheries, and for boats in from the Bering Sea for the holidays.
Sand Point's has a stable population and an economy far more diversified than that found in many Bush communities. There is a hotel and several eating places, but no bank. The town does not have a doctor, but a nurse practitioner staffs the clinic, and a dentist and hygienist fly in regularly for appointments. The town's diesel fuel and gasoline come from Trident Seafoods. There is a lack of recreational facilities. The school gym and swimming pool are open to the public, as is the school library.
The state ferry calls at Sand Point during its summer runs through the Alaska Peninsula, and people plan around the ferry if they want to move vehicles or heavy equipment. Most travelers come and go by air. Sand Point is served by three air carriers, Arctic Circle, Hageland, and Peninsula Airways (PenAir).
Subsistence fare complements store-bought supplies for most Sand Point residents, who sport fish for salmon, cod, halibut, and trout. They hunt ptarmigan on the island, and hunt moose, bear and caribou on the mainland. In most years the Shumagin Corporation sells a limited number of licenses to take a bison from its herd. Egg-gatherers collect gull eggs each spring, and beachcombers gather ribbon kelp in spring, and butter clams and sea urchins. Berry-pickers look for salmonberries, mossberries, and blueberries in late July and August.
Sand Point's economy has had its ups and downs, most recently paralleling the economic conditions in the fishing industry. Despite this, the town's young people have generally remained in the community to raise their families. This stability is also reflected in the community's school system. Sand Point schoolchildren have a reputation for staying in school and continuing on to higher education. Teachers, adults in the community and economic times have convinced them of the need to do more than just depend on fishing.
Sand Point History
Fifteen main and numerous smaller islands comprise the volcanic Shumagin group, which was once covered by a Pleistocene ice cap. Scouring and grinding of the ice fashioned a rugged landscape. Later weathering smoothed some of the ruggedness, especially on Popof Island, but the convoluted coastline remains today. This coastline and the islands' location on the route to fishing grounds for Pacific cod in Russia's Okhotsk Sea encouraged the first western commercial enterprise in the islands. Numerous settlements including a Russian post at Red Cove on Popof were scattered throughout the islands during Russian colonial times. In 1874 Thomas W. McCollam established a cod fishing station at Pirate Cove on Popof's north coast to fish local cod stocks.
Established as a trading post and cod fishing station, the city of Sand Point was founded in 1897. Aleuts from surrounding villages and Scandinavian fishermen began moving to the community. In the early 1900s gold mining dominated the economy, but was slowly eclipsed by fish processing in the 1930s.
The Russian Orthodox community built the St. Nicholas Chapel in 1933, which is recorded in the National Register of Historical Places.
Also in the 1955, a bison herd was transported to the island and today a viable herd of about 120 bison thrive on the uninhabited side of the island. During World War II, the military constructed facilities to repair and refuel amphibious aircraft patrolling the Aleutians.
In 1887 a San Francisco company, Lynde R Hough, known throughout the Pacific for its various marine-oriented enterprises including Okhotsk Sea Cod Liver Oil, opened a supply station for the cod fishery at a site the federal government had named Sand Point. Shortly, the station expanded to include a trading post and buying station for salmon. A year later, Andrew Grosvold used some of the $100,000 he had received from a successful gold claim at Nome to purchase fox farms in the area. The first families at Sand Point worked mostly for Grosvold or fished on dories in the cod fishery.
By 1900 Sand Point counted 16 residents, mostly fishermen from Scandinavia or fur farmers raising silver and blue foxes. 1904 introduced a new element in the settlement's economy when gold was discovered on local beaches.
Unga Island already supported a handful of hardrock mines, offshoots of an original discovery in 1884 by George C. King. By 1894 several mines were yielding gold and silver, including the Apollo Mine, which produced gold from that year until 1908. A resurgence in gold prices led Alaska Apollo Gold Mines Ltd. of Phoenix to reassess their properties on Unga from 1981 to 1987 with an eye toward reopening the mines. As of mid-2004, they remain idle.
Even earlier, in 1840, coal was mined at Coal Harbor on Unga in what was likely the first coal mining in the region. Americans resurrected the business in 1882 when they shipped about 700 tons to San Francisco, and sold smaller amounts to steamers working in the sea otter industry. By 1908 coal mining had dwindled to one mine.
By the 1930s, mining had quieted, the fur industry had collapsed, and fish processing stepped in to fill the gap. Fishing and fish processing remain Sand Point's economic foundation. In 1931, Alaska Pacific Salmon Co. opened a salmon cannery on Humboldt Harbor, two miles from Sand Point; three decades later New England Fish Co. (NEFCO) converted the facility to a fish buying station.
In the 1960s, Sand Point blossomed during the king crab boom and when harvests of that species declined, the fleet diversified into Tanner crab and shrimp. Local fishermen prospered in the 1970s and 1980s when fishermen could fish 365 days a year, and fish prices were high. Today, restricted openings, limited harvests, and low prices have combined with high fuel and insurance costs to severely depress the fishing economy in Sand Point.
In 1980 the NEFCO processing plant was partially burned. NEFCO sold what remained to Ocean Beauty Seafoods, then a subsidiary of Sealaska Corporation, the ANCSA regional corporation for Southeast Alaska. A subsequent owner filed for bankruptcy, and a group of local fishermen, known as the Gang of Five, bought the property.
In 1947 Aleutian Cold Storage took over Andrew Grosvold's holdings and began processing halibut the next year. Wakefield Fisheries leased part of the facility and converted it to handle king crab. Their company grew with the booming king crab industry, but just when Wakefield took over the entire plant in 1966, the industry began a steady and almost fatal decline. Sand Point had prospered with the king crab boom, and the diminished harvest temporarily halted the town's growth. To survive the economic downturn, Wakefield diversified into Tanner crab and shrimp, a pattern continued by a succession of owners until the facility was once again in the hands of Aleutian Cold Storage in 1981.
In 1986, the present owners, Trident Seafoods, took over the old NEFCO plant, and as of 2004 this facility was the only fish processing plant at Sand Point. Trident Seafoods hires mostly labor from outside Alaska for its Sand Point plant. Peter Pan Seafoods has tenders and operates a fish buying station here.